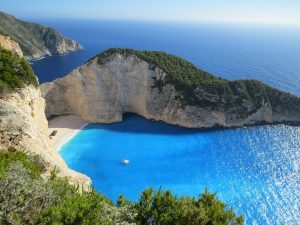 Are Residents of the UK Permitted To Visit Greece?
Recently, the Foreign and Commonwealth Office lifted it's warning against non-essential travellers for as many as 67 destinations with Greece being among them. Because of this, travellers who are British citizens are permitted to travel to Greece while maintaining the validity of their travel insurance. Those on holiday in the UK were officially welcomed into the country as of Wednesday 15 July. While the original thought was that it would be reinstated as early as 1 July. However, that turned out to not be the case as the prime minister of Greece decided to wait for flights from the UK to be permitted starting on 15 July.
The spokesperson for the Greek government, Stelios Petsas noted that starting on 15 July direct flights would be eligible to resume. This was determined in cooperation with the British government and industry health experts. Up until recently, it wasn't only flights that originated from the UK that was being blocked. In fact, it was flights from Sweden, as well. You can find a lot of flights on popular travel site Skyscanner which showcases flights from different airports around the UK that are heading to Greece for passengers on their aegean holidays.
What New Measures Are In Place For Visitors?
Every single traveller is going to be required to complete a Passenger Locator Form (PLF). This must be completed a minimum of 48 hours prior to entering the country. This form will specify various questions such as how you are going to be travelling to the country and within the country, details about your flight or travel method, where you are staying, how long you are staying in different countries, and the specific address you will be staying at in Greece. As soon as you have completed and submitted this online form, you will get a confirmation via email that says you have successfully completed and submitted the form. Along with this will come a QR code.
As soon as you get this code, you are going to either want to screenshot it in your phone or have it printed out. You will be needing to showcase this QR code as soon as you arrive. A lot of airlines may even check to ensure you have it prior to boarding.
When you arrive, you will need to head to the screening area where you will be tested for the coronavirus by a specialised health team. They will then tell you to begin the self-isolation process during the period from which your test results are unknown.
Will I Be Forced To Quarantine When I Return?
There has been an announcement that has said that anyone living in Scotland will be valid to travel to as many as 39 countries starting on 10 July without having to be in mandatory quarantine when they return. All of the countries that have been rated green by the government would be featured on this list.
One of the included countries on this list was Greece. It also included both France and Belgium. That being said, there is always a possibility that you are going to need to quarantine based on the rules changing during or after your travel period.
Is Greece Going To Be In Lockdown?
There has been a spike in coronavirus cases as they have lifted the tourism restrictions. Therefore, residents and visitors may be relegated to a lockdown at some point.
The daily number of new cases peaked on 10 July for the first time since late April. Since the restrictions for travel have been lifted, the country has seen as many as 100 brand new positive cases in the last 10 days and they have all been from foreign tourists.