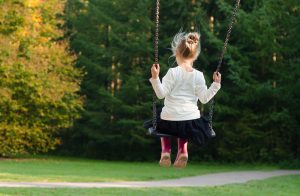 The aftermath of Hurricane Katrina that ripped though the Gulf Coast in 2005, killing 1,800 people and leaving 372,00 children displaced, provides a framework for the expected consequences of the consequences of lockdown for the future of children. Over 100 public schools were destroyed and those that survived were shut for weeks resulting in many children simply being unable to attend school for an extended period of time.
Impact on Children
Even when rebuilding was in full force and the displaced children found new schools to attend, the impact of the disaster still rung through the halls. Children showed signs of increased anxiety, depression and PTSD (Post-Traumatic Stress Disorder) for months after the devastation.
A study that was conducted 5 years after Katrina found that 1/3rd of the number of displaced children were still at least one year behind their peers on an academic level.
While a natural disaster like Hurricane Katrina pales in comparison with the current viral pandemic, it does provide useful insights for researchers to predict what the future holds for the more than 1.3 billion children across the globe who have been unable to attend school for months. This information is now being used to answer the pressing question that educators, parents and students alike are asking – Will there be long-term consequences for children in lock-down due to coronavirus and what will that impact be?
The initial data gathered from the after-effects of natural disasters on children are not encouraging and have been found to have a severe negative impact on both educational achievement as well as mental health. Lisa Gibbs, the director of the Jack Brockhoff Child Health and Wellbeing Program at the University of Melbourne, says that although the recovery process is often determined by the characteristics of the hazard, this is not the case with the impact on humans, which are more consistent.
Direct or Distance Learning
While many schools have adopted some form of distance learning or their students with teachers providing classes via online platforms such as Google Classroom, Zoom and YouTube, the evidence as to the value this holds as an alternative to direct schooling is controversial. In addition, the growing move towards distance learning can aggravate an already alarming trend where children from economically challenged households are likely to be the worst affected. Bilingual Nurseries also have to contend with language troubles, which are increasingly difficult in distance learning.
It is simply impossible to asses how much every individual child is learning during lockdown. However, a survey conducted by the Sutton Trust and Teacher Tapp (a teacher polling app) shows private school students are two times more likely to be accessing online classes than their public school counterparts. Working-class students have also shown a marked drop in the quality of their school-work as they are spending far less time studying during lock-down.
Some of the data collected has shown that around 55% of the teachers working in the most disadvantaged areas felt that children where getting a maximum of 1 hour of education on a daily basis, according to Tapp's co-founder Laura McInerney. This could be as a result of private schools applying online tools to learning before lock-down and wealthier kids having greater access to devices and reliable internet or broadband connections as well as the privacy and space needed to study at home. There seems to be a difference of about 50% of private school students going online from 9 am to 3 pm daily and under 10% of state school students logging on for sessions.
Schools Across the World
Schools in some countries, including China, Germany and France are just starting to reopen their doors. Provided schools meet the stated requirements, government has stated that they will progressively start reopening schools from June 2020. However, other countries, including Scotland and Wales have not even established a clear timetable for the return of students. In Italy, Portugal, New York and California, schools are set to reopen in September.
When advising governments on post-disaster planning, Gibbs recommended a recovery plan that extended over a 5 year period. For a pandemic of this nature, the recovery could be much longer, especially if the worldwide economy is tipped into another recession. While the current outlook for children may look bleak, Gibbs says that it is important to remain hopeful as children from disasters do recover and more often than not, go on to live normal, happy lives.