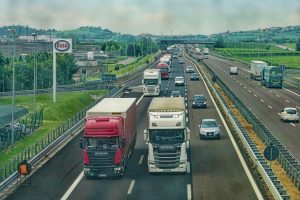 Training has a big tick and the next step on your hit list is to get yourself a job as an HGV driver. This is the exciting point in your career where you get to choose which of the many available doors you will open. Of course, as is the case in any industry, getting started can be the scariest part, especially when there are new customs to learn and expectations to discover. But you're not going to have a career if you don't get yourself on that first step of the ladder! You have done the hard work and training from hgv hazard perception through to your specialised loader training, that is why we have prepared a few tips on things to include in your CV, now that you have your qualifications under your belt. Let's get started on finding you the ideal HGV driving job.
Key Information Not to Forget
It's important not to forget any of your essential information. Your full name, contact number, email address and so forth. This means that employers can see at a glance who you are and know that they can easily get hold of you. Don't go crazy though. Excessive information is not needed here – your employer doesn't need to know your marital status, your age or even your gender at this point. Actually the more unnecessary, specific information like this that you include, the more chance of a prejudice existing which could cost you the job. Keep it simple. Make sure you include two contact numbers (preferably a mobile and a landline); many people forget this point.
Your Personal Summary
Once you have covered the essential information it is time to create a short personal summary. This lets potential employers know who you are. Keep your approach professional instead of relating how you love to spend your weekends. Try to find ways you can tailor this section to show how you are the ideal candidate for the role, include your work ethic, the experience you already have, and why you love being out on that open road. Don't share too much, just enough to make the reading of it compelling.
Your Work Experience
This section is crucial. Start with your most recent experience and continue in chronological order backward so that you finish with the experience which is the oldest. Of course, if this is your first entry into the world of HGV driving you may be feeling a tad nervous about writing his section. You could be thinking that without experience no one will want to hire you. Actually, you are a million miles away from reality. Firms these days are looking for new and enthusiastic drivers to replace their retiring drivers, this means that being a newbie could go in your favour. As well as this, don't forget that skills you learned in previous jobs can showcase how competent you are, things like being able to meet targets and manage your time effectively. Include details such as the company name, how long you worked there and the responsibilities you had.
Your Qualifications
This part of your CV is also crucial. In fact, for new drivers this is where they really come into their own. List all of the qualifications that you have again doing so in reverse order, starting with the most recent. Showcase all of your qualifications as a new driver here (things like Cat C, Cat C+E and so on), as well as your school grades and any other qualifications you have to your name.
A Couple More Tips
It's essential to make a good first impression with your CV as employers will base their impression of it on whether they will meet you in person or not. Triple check for spelling mistakes or grammatical errors, these could easily put an end to a potential interview. Keep in mind too that a great CV is about quality, not quantity. It needs to include the information the employer needs to decide they want to meet you, no more and no less. If you are agonising over whether to include a certain piece of information or not, chances are it doesn't need to be there.